Pastor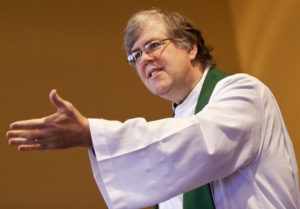 The Rev. S. Blake Duncan, Interim Pastor, is just retired after 9 years as Pastor at Peace Lutheran Church in Steeleville, Illinois and Pastoral Head of Staff for the Wartburg Geographical Parish. Pastor Duncan continues to serve as the Dean of Education for the Synodically Authorized Ministry program for the C/SIS and has been a presenter in the past. In addition, Pastor Duncan serves on the board for the Lutheran School of Theology of St. Louis and has most recently taught a course on the Apostle Paul for them. Pastor Duncan is also a professional musician and has served many congregations over the years as music director – directing a choir and playing organ/piano. Pastor Duncan also taught for 17 years on the music faculty at Bradley University, Peoria, Illinois, and for 15 years on the faculty at Lutheran Summer Music and has performed regularly in orchestras and in chamber music as an oboist / English Horn player.
To Contact Pastor Duncan: prblake1@yahoo.com
Visit Pastor Duncan's Blog: https://pastorduncansblog.blogspot.com
Location
St. Martin of Tours is located at 1190 North 6th Street, Mascoutah, Illinois.

A Brief History of St. Martin's
September 26, 1976 – Reverend James L. Clark and around 140 members left Zion Lutheran Church in Mascoutah, IL and formed St. Martin of Tours Lutheran Church.
October 3, 1976 – Services began in the gymnasium of Holy Childhood Catholic School.
May 20, 1979 – Services began in a newly constructed church on a three acre plot donated by members at Sixth Street and Fuesser Road.
1988 – St. Martin's purchased the adjacent day care center on Fuesser Road and renamed it the St. Martin's Child Development Center.
1994 – St. Martin's member Jerry Norton began construction of a Gazebo and Columbarium in memory of his wife Myrna and daughter Filipa.
2002 – St. Martin's sold the Child Development Center.
2006 – Reverend Clark retired after serving St. Martin's for 30 years. Reverend James Bannit became the interim pastor.
2008 – Reverend Heidi Wallace was called as pastor of St. Martin's and serves until 2010.
2010 – Reverend Jan Worms, who served as music director and organist for many years, retired.
2011 – Reverend Waylon Middendorf became the interim pastor.
2014-2018 – Reverend Margo Peterson served as the pastor at St. Martin's.